Eid al-Fitr Family Celebration Day
Friday 21 April 2023 at 10:00AM
Caroline Springs Library And Learning Hub
Event Description
Eid al-Fitr is the traditional Islamic festival that marks the end of Ramadan. It is often celebrated with feasts with family and friends, communal prayer, and the giving of gifts to those less fortunate.

As part of the 2023 City of Melton Heritage Festival, you're invited to celebrate and learn about Eid with your loved ones and community. Join us for arts and crafts, live music, and fun activities for the whole family. Everyone is welcome!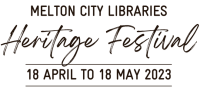 Event Partner
The City of Melton Heritage Festival is on from 18 April to 18 May 2023. Find out more at https://www.melton.vic.gov.au/Heritage-Festival
Bookings
There's no need to book your place for this event. Just meet us at Caroline Springs Library And Learning Hub!
Primary School Years Events
Local History & Genealogy Events
EVENT NAME
DATE
LOCATION
Mad About Platypus

12-04-2023

at 10:00 AM
Melton Library & Learning Hub
Wacky Waterbugs

12-04-2023

at 11:15 AM
Melton Library & Learning Hub
Mad About Platypus

18-04-2023

at 10:00 AM
Caroline Springs Library And Learning Hub
Wacky Waterbugs

18-04-2023

at 11:15 AM
Caroline Springs Library And Learning Hub
Early Years Events
EVENT NAME
DATE
LOCATION
Baby Bounce
Tomorrow at 10:00 AM
Melton Library & Learning Hub
Storytime
Tomorrow at 10:00 AM
Caroline Springs Library And Learning Hub
Storytime
Tomorrow at 2:00 PM
Caroline Springs Library And Learning Hub
Toddler Time

30-03-2023

at 10:00 AM
Melton Library & Learning Hub
Toddler Time

31-03-2023

at 10:00 AM
Caroline Springs Library And Learning Hub
Toddler Time

31-03-2023

at 11:00 AM
Caroline Springs Library And Learning Hub
Arts Events
EVENT NAME
DATE
LOCATION
Craft And Chat

30-03-2023

at 10:00 AM
Melton Library & Learning Hub
Craft And Chat

30-03-2023

at 5:00 PM
Melton Library & Learning Hub
Craft And Chat

31-03-2023

at 10:00 AM
Caroline Springs Library And Learning Hub
Craft And Chat

06-04-2023

at 10:00 AM
Melton Library & Learning Hub
Craft And Chat

06-04-2023

at 5:00 PM
Melton Library & Learning Hub
Craft And Chat

07-04-2023

at 10:00 AM
Caroline Springs Library And Learning Hub